From beginning to end

It's best to call and make an appointment for your first fitting 3-6 months in advance of your wedding date.
Especially if you are getting married during the busy season June thru Oct.

It's necessary to have your shoes for the first fitting, or at least shoes with the heel height that you plan on wearing.

Because most dresses have a lot of inner structure, bras are often not necessary. I can determine at the first fitting whether you may need a bra or can just have pads sewn into the dress.
Alterations prices are based on an hourly rate. During your fitting I can give you an estimated price range for your alterations, but the final price is based on the time needed to finish alterations.
Generally alterations will run between $350-600. This includes pressing and steaming.
A $100 deposit is to be paid at the first fitting, with the balance due at the final fitting.
Bustling - There are many ways to bustle a gown. Based on the fabric, the cut of the dress, and of course the bride's preference,
I will design a bustle that makes your gown as beautiful with the train bustled up as it is with the train down.

All the accessories you need to embellish your gown are available in my studio. Crinoline skirts to fill out a ball gown, jewelry, veils and headpieces, toppers and shawls. Visit the shopping page to view inventory.

Once your alterations are complete, I will store your dress until one week before your wedding at which time it will be steamed and pressed and readied for pick-up.
With the festivities over, there is one more step in the care of your gown. Bring it back to Tinker Tailor for expert dry cleaning and preservation
Expert Alterations for the entire Bridal Party
25 years of professional sewing experience.
15 years specializing in Bridal and formal wear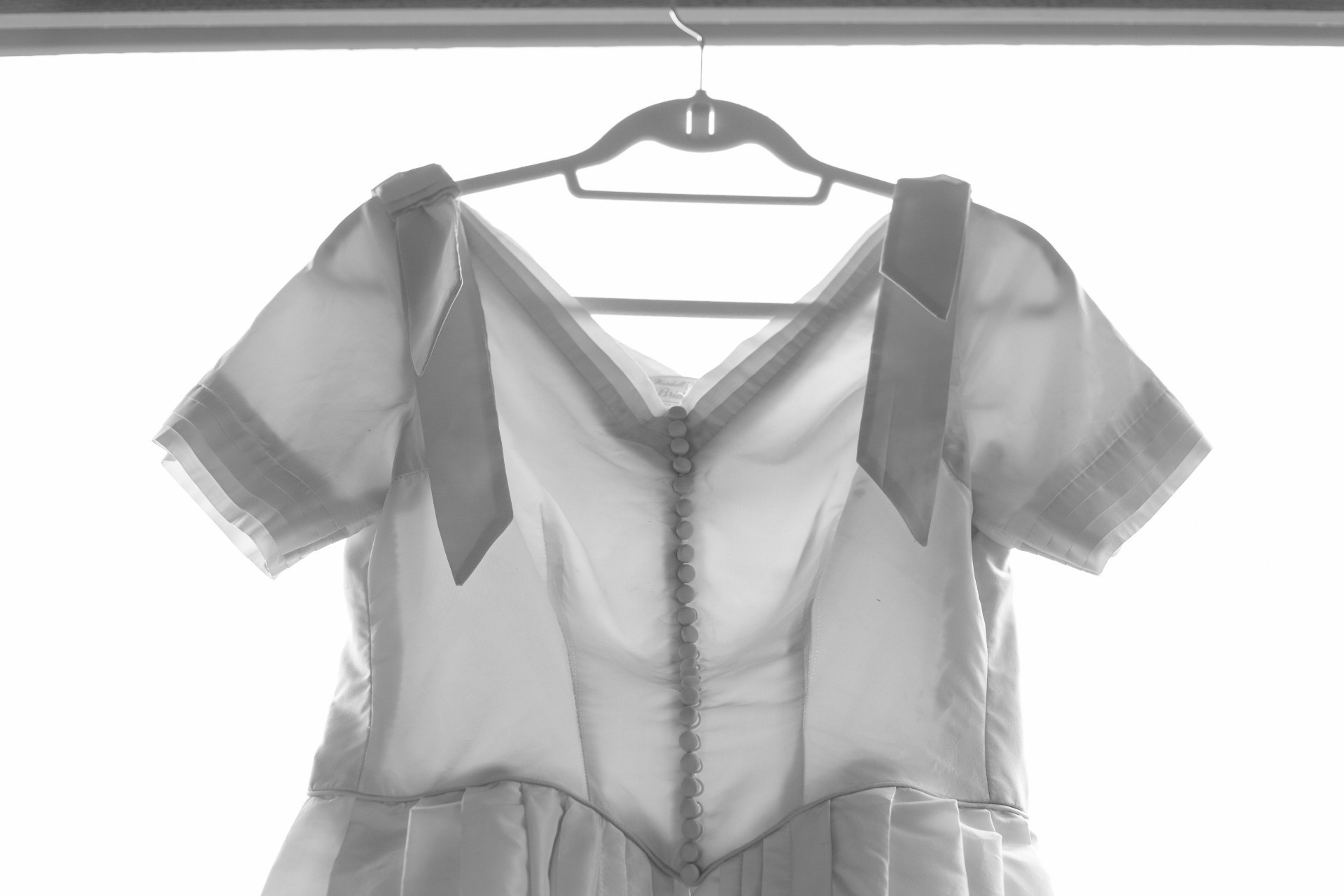 Restoration or creative restyling of vintage gowns.
My experience in garment construction and pattern making as well as my love of period clothing gives me a unique perspective on your vintage gown. The key to successful restyling is the ability to update the dress to be modern and well-fitting, yet retain the character and appeal of the vintage style.
Cleaning and Preservation
Authorized Dealer for

Master Dry Cleaners
of
Traverse City
Just drop you dry cleaning needs at my studio and I'll handle the rest.